The AWPHI Inspection Guarantees allow you to have confidence in your inspection knowing you hired the right inspection company. Our AWP Certified Master Inspector® works for you and wants to do the best job possible to help you understand the condition of your home.
How Does It Work?
Our inspector follows a Standards of Practice to ensure all components are properly inspected. If our Certified Master Inspector® performs a full home inspection for you in compliance with our standards of practice, and after your inspection you find a deficiency in a component or system which was supposed to have been inspected but is not included in your inspection report, AWP Home Inspections, LLC will reimburse you up to the cost of the inspection report fee, or a $500 maximum (whichever is less). *All claims subject to review and are subject to the terms and conditions.
How Are Claims Handled?
Documentation will need to be submitted in a timely manner and should include all necessary items for a proper review, as described in the Guarantee Guidelines section, "How Claims are Processed". If after your documentation is reviewed and approved, AWP Home Inspections, LLC claims administrator will notify you and send a form for you to sign and return. Once you have signed and returned the release form, you will be sent reimbursement monies for the approved claim total. You will need to allow at least two business weeks for the monies to be distributed. Claim amount will be decided based on "What's covered".
Note: AWPHI Inspection Guarantees cover omissions related to issues with components and systems in the inspection report discovered within 90 days after the inspection. The Guarantees do not cover items, systems or components that fail after the inspection.  What is offered is an inspection guarantee not to be confused with a home warranty, insurance, or service contract. Guarantees are fully funded by AWP Home Inspections, LLC. If you purchased a home warranty and something fails after the inspection you should contact your home warranty company and file a claim with them.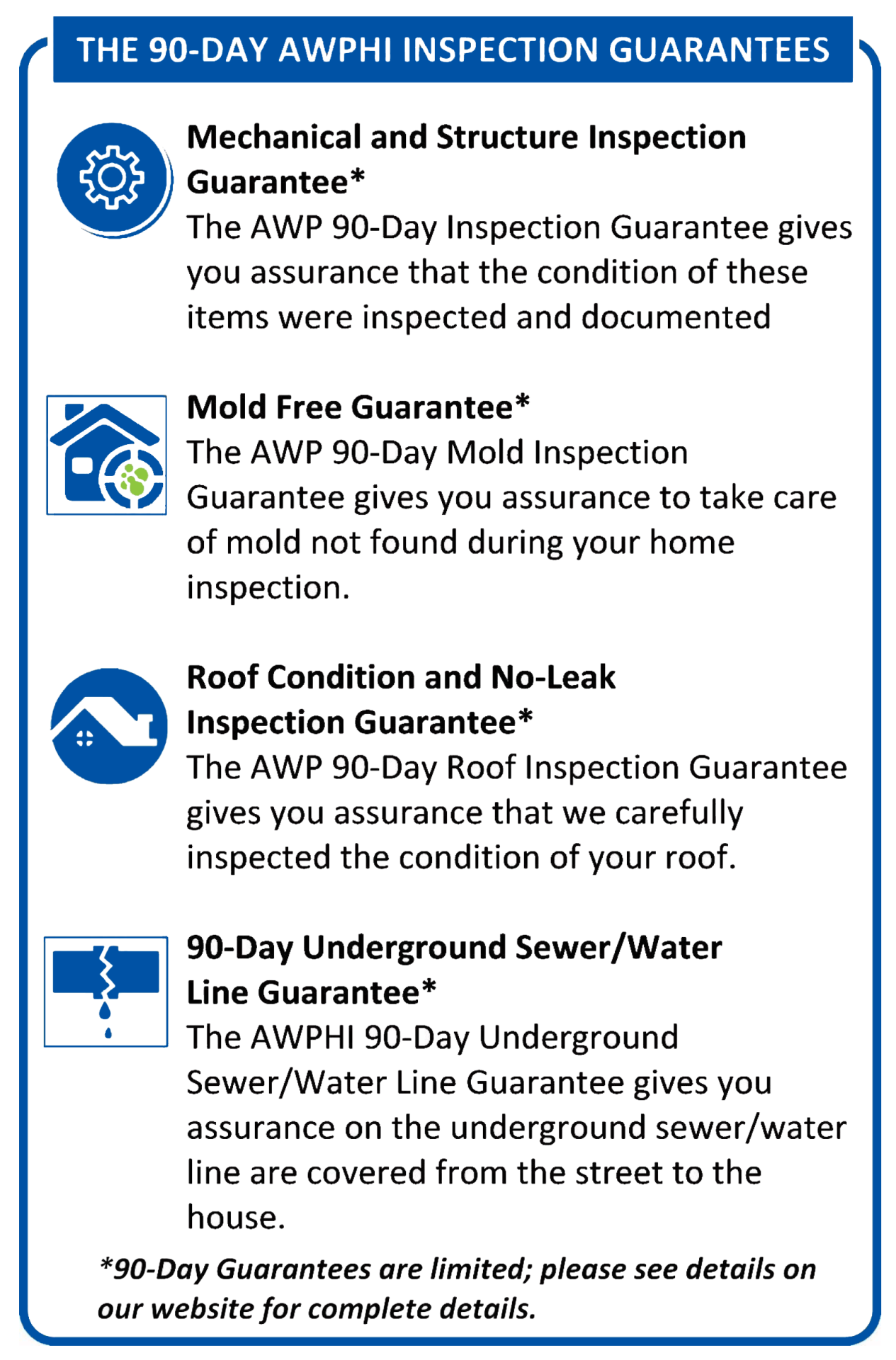 Definitions.
Deficiency: A item which is defective, component or system that was not reported (or reported incorrectly) in the inspection report, provided component or system (a) is within the building's foundation area, (b) was required to be inspected in accordance with the Standards of Practice (which can be found at our website www.AWPHomeInspections.com/sop), (c) was not disclaimed by the inspector either in the inspection agreement, disclaimers or inspection report and (d) is not specifically excluded from coverage in the AWPHI Inspection Guarantees.
Standards of Practice (SOP): Outlines the definitions and scope, limitations, exceptions, and exclusions, components and systems to have been inspected which is designated in our marketing, report, and contract. The client should read and understand the entire SOP provided at our website. www.AWPHomeInspections.com/sop
Residential only: Single family, Condominiums, Townhouses, Mobile Homes, Manufactured Homes and Multi-family units (4 units or less) are covered. Commercial buildings, structures which are non-residential, out buildings and multi-family (units of 4 or more) are not a part of the guarantee program and are excluded.
Guarantee Period: 90 days after the date of the inspection, no exceptions.
AWPHI Claims Administrator:  The AWPHI claims administrators manage the guarantees process and reviews documentation.
What's covered?
Coverage Limit: The AWPHI Inspection Guarantee will only pay claims which have been approved by the AWPHI Claims Administrator, as described in next section of "Amounts of Coverage", up to the cost of the home inspection fee, and not to exceed $500 (which is considered "Coverage Limit"). If the Coverage Limit is obtained, no further reimbursement will be awarded for any discovered issues.
Amounts of Coverage per guarantee and system are:
90-day Mechanical / Structural Guarantee:Plumbing – $250, Electrical – $250, Water Heater – $250, HVAC – $350, Structure – $350
90-day Roof Leak Guarantee: $350 per leak occurrence (covers leak repairs only, does not include replacement of roof areas; limited to visible/accessible roof areas only)
90-day Mold Free Guarantee: $350 towards remediation of visible mold not discovered by the inspector (Note: mold must be visible, NOT mold discovered by any sort of deconstruction of wall/ceiling/floor opening, cabinet removal, baseboard removal, etc.  New mold growth is not covered.)
90-day Underground Sewer/Waterline Guarantee: $400 towards repairs of underground sewer or water line issues (line breaks or water leaks) underground from the main connection point at home to the sidewalk, septic tank, or city curb. (does not cover clogs or root intrusion) (Note: septic systems and well systems are excluded if not ordered)
*Limitations apply to covered items.
Reimbursement will be one payment per system. If there is more than one issue in the system the AWPHI Claims Administrator will determine which is the higher amount for system and reimburse the higher amount. In the event there are issues with more than one system, AWPHI Guarantees will reimburse for each system (up to Coverage Limit for the total payment). You are allowed to submit more than one claim during the 90-day period, unless you have already received monies from reimbursement claim for the system or you have reached the Coverage Limit, $500.
IMPORTANT TO UNDERSTAND:
 If Inspector recommends improvement or maintenance, or if a system or component of a system is marked as needing correction or further evaluation in the Inspection Report, then is it up the claimant to provide physical proof that the advice given by the Inspector report was followed by the Claimant.  Discoveries or deficiencies found while a licensed contractor provides further evaluation are not covered by any guarantees. Denial of claim will result immediately if Claimant fails to follow the advice written in the Inspection report.  This is a NOT debatable term of these guarantees.  Our inspection report is intended and designed to provide information and recommendations for further evaluation and maintenance about the home at the point of time of inspection. Clearly stated, if advice in report is not followed the result will be denial of claim.
How are claims processed?
The claims process is outlined below. All steps should be followed to ensure your claim is handled in a prompt manner.
The claim must be submitted before the expiration of the 90-day Guarantee Period, which is from the date of the home inspection.
Submitted a claim can be done by following this link: https://awphomeinspections.com/contact/
There must be a summary of what you feel the issue pertains to. The summary should include the specific identification of the issue and its location in the home. You must be able to prove to AWPHI that the alleged issue was required to have been inspected and have a professional provide documentation. Documentation should consist of photographs, reports, and other supplemental documents assembled by neutral contractor having investigated the involved system or item in need of correction.
All required documentation from the client needs to have been received by AWPHI Claims Administrator before claims will be processed.  Required documentation must be received within sixty (30) days ("Documentation Period") following a claim submission. If required documentation is not provided before Documentation Period ends, the claim will be denied. No exceptions will apply.
If a claim is approved, in order to receive the reimbursement check, you will be required to sign and return a release form that releases AWP Home Inspections, LLC and the inspector from any and all liability.
After you have signed and returned the release, AWP Home Inspections, LLC will send your reimbursement payment for the approved claim amount. Please allow 2 business weeks for processing. Inspection fees paid with a credit card will be reimbursed by check only and will not be applied to the credit card used.
Excluded Items:
The following are not covered by AWPHI Inspection Guarantees:
Commercial properties; multi-family (4 units or more), Common Areas which refers to property that is commonly used by one or more persons.
Deficiencies related to items, systems and components that were excluded from the home inspection, as identified in the Designated Standards, the inspection report, inspection disclaimer the inspection agreement;
Any and all systems or components not readily available turned on, or not accessible to be inspected by the inspector;
Any systems, areas, equipment or components of systems where the Inspector marked the area as having limited access or limited visibility of system, equipment or component (example: second story roofs, high roof areas, wet roofs may receive a limited to no view at all) claims in these areas will be denied if there is no proof of further evaluation after the home inspection;
Issues found behind the finished wall/trim/ceiling/floor materials/insulation that was not readily visible during the inspection are not covered;
Any system or component installed, or method utilized to control or remove suspected hazardous substances; Public or private waste disposal systems; Stoppage of water regardless of the reason;
Damages considered incidental or consequential; water damage and drywall replacement are NOT covered in any way, shape or form including new mold growth.
Clearly stated- Inspector does not inspect for building code compliance in any way shape or form and does not verify installation to manufacturer specifications. Issues related to code issues are not covered;
System and/or components which fail after the inspection is conducted;
Claims not submitted by deadlines outlined above;
Services outside the scope of a general home inspection provided by inspector or fees for services (examples: radon tests, mold tests, or any other service)
Issues caused by "Acts of God" or disasters such as (but not limited to): floods, unusual amounts of rain/hail/sleet/snow, high speed wind, etc.
Items which require specialized testing such as: Asbestos, lead paint, mold, fungus growth in ventilated spaces (Attics and/or foundation crawlspaces) are not covered.
Materials, components, and/or systems which are a part of or has been a part of any class action lawsuit.
Inspection Guarantees are fully funded by AWP Home Inspections, LLC and is not to be considered an Insurance Policy, Home Warranty, or Service Agreement: The AWPHI Inspection Guarantees is not intended to provide insurance of any kind. It should not be considered a contract or agreement by which AWPHI or the AWPHI Claims Administrator, for consideration or not, promises to pay the Client upon the failure, destruction, injury or loss of something the Client has a financial interest, or in consideration of a price paid, adequate to the risk, becomes security to the Client against loss by certain specified risks or to grant indemnity or security against loss for a consideration. Coverage is not predicated on the happening of any accidental event, any anticipated future occurrence or event, or any agreement by AWPHI or the AWPHI Claims Administrator to indemnify the Client against loss or damage to any system or component of the inspected property. AWPHI Inspection Guarantees are should not be considered the insurance of the risk that any inspected system or component will remain free from defect for any period of time. To file a claim online go to https://awphomeinspections.com/contact/